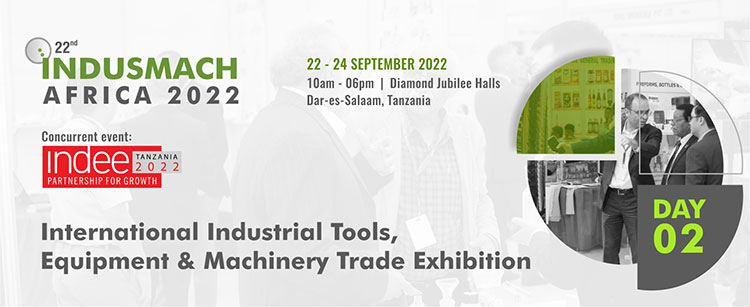 Industrial Exhibition:

Visit the 22nd INDUSMACH TANZANIA 2022

Industrial Exhibition: September 22 – 24, Diamond Jubilee Expo Halls, Dar es Salaam | 10:00 AM to 6:00 PM
International Trade Fair On Industrial Products, Equipment & Machinery
This is the opportunity to source all your requirements at one place and time.
On display will be products and equipment including Tools & Hardware | Industrial Automation | Chemicals, Adhesives & Raw materials | Hydraulic Control Equipment | Wires, Cables & Connectors | Power & Energy | Packaging Products, Equipment and Machinery | Recycling Machinery | Wood Working Machinery | Food & Dairy Processing Machinery | Metalworking Machine Tools | Bakery and Confectionery Machines | Hand tools | Generators | Power hand tools and more.. Check out some of the leading companies here.
Please REGISTER TO VISIT here. Entry is Free.
————————————————————————————————
An event by Expogroup, UAE
Assistance: +255 652 496 767 / 0 713 246 267
Note: Only your business card is required at reception. Please avoid bringing children.

The 22nd INDUSMACH 2022 – International Trade Exhibition on Industrial Products, Equipment & Machinery is the largest trade event held annually in Tanzania. The exhibition attracts exhibitors from more than 20 countries and visitors from all over East & Central Africa, thus giving exhibitors an excellent opportunity to explore several countries at one time. Over the past few years, Tanzania has emerged as a major regional trade centre. This is mainly due to the very friendly and businesslike atmosphere it offers to foreign investors and products. Duties are considerably low and re-exports to neighboring countries are either very low or exempted.
(see poster for more details)